Synchronisation, SyncE, PTP1588v2
Calnex Sentinel
All-in-one field sync tester PTP, NTP, SyncEand TDM
Calnex Sentinel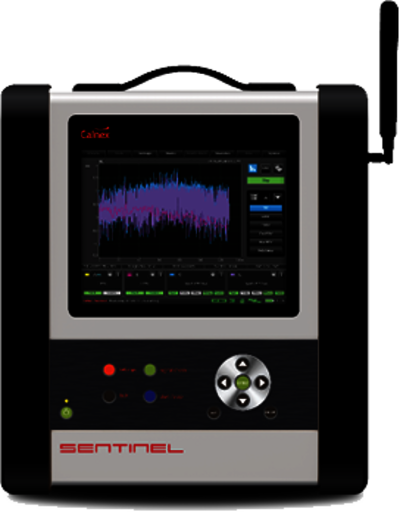 All-in-one field sync tester PTP, NTP, SyncE and TDM

All-in-one Tester

PTP, NTP, SyncE and TDM
Multi-port, simultaneous measurements

Embedded GPS Rx and Rubidium

High performance. Optional battery to maintain Rb in holdover during transit

Analysis and Reporting

Industry standard or vendor specific masks
Built-in in or offline analysis using Calnex Analysis Tool (CAT)
Professional reports

Capture and Replay

Capture live network conditions and replay in the lab to troubleshoot issues

Evaluate Readiness of Networks

For LTE-A, TDD LTE and small cell deployment. Test network phase accuracy. Validate network performance to ITU-T limits
Measure and analyze metrics: PDV, FPP, TE, MTIE/TDEV
Troubleshoot Network Problems. Identify root causes and suggest solutions
Measure Time Error (TE) Over The Air (OTA).
Calnex Paragon Neo
Ready to meet the challengesof 5G timing deployments
Calnex Paragon Neo
Ready to meet the challenges of 5G timing deployments

Standards Conformance

New best-in-class one-box PTP and SyncE test equipment: sub-ns accuracy.
Addresses all 5G Enhanced Time requirements.
Complete test solution for ITU-T Class-C and Class-D devices, as required for 5G applications.
High performance Hardware combined with test-driven Software to control stimulus, impairment and measurement for robust testing.
Automatically generates PTP and ESMC messages, Time Error and SyncE impairments, and applies filters, metrics and masks.

PTP (1588)

Industry leading Time Errorsolution – sub-nanosecond accuracy for the entire testbed.

SyncE (Jitter & Wander)
Calnex Paragon X
Testing PTP, SyncE, NTP, CES and OAM up to 10Gb/s
Calnex Paragon X
Testing PTP, SyncE, NTP, CES and OAM up to 10Gb/s

PTP (1588) and CES

SyncE

Jitter and Wander conformance test
ESMC (SSM) message testing and validation to G.8264

Ethernet OAM

Verification and Proof of Concept

Prove packet-transport products meet industry standards
Test hybrid devices simultaneously with 1588 PDV/SyncE wander and measure output packet timing and recovered clocks
Validate Sync-E and ESMC to ITU-T G.8262 and G.8264 standards

Troubleshooting
TEM für SyncE und PTP1588v2
Das für den Feldeinsatz optimierte Timing Extension Module (TEM) hilft den Netzbetreibern, durch eine branchenweit führende Genauigkeit der Zeit- und Synchronisierungsmessungen eine exakte Synchronität zu gewährleisten.
TEM für SyncE und PTP1588v2
Das für den Feldeinsatz optimierte Timing Extension Module (TEM) hilft den Netzbetreibern, durch eine branchenweit führende Genauigkeit der Zeit- und Synchronisierungsmessungen eine exakte Synchronität zu gewährleisten.


Die zügige und dynamische Anpassung und Koordinierung von RAN-Funkzugangsnetzen erfordert eine präzisere Abstimmung zwischen den verschiedenen Technologie-Generationen. Das Timing Extension Module (TEM) von VIAVI Solutions hilft den Netzbetreibern, die geforderte Synchronität sicherzustellen, sodass eine hohe Kundenzufriedenheit gewährleistet ist.

In Verbindung mit dem MTS-5800 ermöglicht das für den Feldeinsatz optimierte TEM-Modul branchenweit führende Zeit- und Synchronisationsmessungen. Es ist mit einem modernen GNSS-Antenneneingang für 72 Kanäle und mit einer extrem genauen Miniatur-Atomuhr (MAC) auf Basis von Rubidium ausgestattet, um auch dann auf Nanosekunden genaue Messungen zu ermöglichen, wenn kein Satellitensignal vorhanden ist und das Modul im Haltemodus läuft.

Höhepunkte

Ein TEM-Modul in Kombination mit einem MTS-5800 erlaubt:

die Einweg-Verzögerung zu messen, um asymmetrische Verzögerungen im Netzwerk zu erkennen.
im Feldeinsatz PTP-Zeitfehlermessungen vorzunehmen, die die Stabilität und Genauigkeit der verwendeten PTP-Boundary-Clocks (BC) nachweisen.
Schwankungen in der PTP-Paketlaufzeit (PDV) exakt zu ermitteln, um nicht PTP-orientierte Netzwerke vorzuqualifizieren oder auf Fehler zu überprüfen.
GNSS-Antenneninstallationen anhand der Satelliten-Signalstärke zu qualifizieren und Antennenfehler auszuschließen.
die Genauigkeit der 1-PPS-Ausgangssignale mit der 1-PPS-Wanderanalyse zu kontrollieren und zu korrigieren.
Jitter und Wander an T1- und E1-Schnittstellen zu messen.

Vorteile

Hervorragendes Kundenerlebnis: In exakt synchronisierten Mobilfunknetzen treten weniger Verbindungsabbrüche auf und die Datenraten der Teilnehmer verbessern sich.
Komfort: Mit seinem kompakten Design bietet sich das TEM-Modul als Erweiterung für den Mehrprotokoll-Tester MTS 5800 an, sodass kein zweiter Tester zur Synchronisierung vor Ort mitgenommen werden muss.
Genauigkeit: Hohe Nanosekunden-Langzeitgenauigkeit auch im Haltebetrieb bei mangelhaftem Satellitenempfang.

Leistungsmerkmale

Überprüfung der Netzwerk-Latenz (Einweg-Verzögerung) von Ethernet- und IP-Netzwerken.
Bestätigung der Frequenz-, Phasen- und Zeitsynchronität mit laborähnlicher Genauigkeit im Feldeinsatz.
Nachweis der GNSS-Antenneninstallation und Ausschließen von Antennenfehlern.
Unterstützung mehrerer GNSS-Konstellationen, wie GPS, GLONASS, BeiDou, SBAS und QZSS.
Schnelles und genaues Erfassen der Satelliten mit modernem 72-Kanal-GNSS-Empfänger.
Unterstützung mehrerer 1-PPS- und 10-MHz-Eingänge und synchronisierter (disziplinierter) Ausgänge.
Ausführen von PTP-Messungen gemäß IEEE 1588v2, einschließlich nanosekundengenauer PDV- und Zeitmessungen.
Emulation der PTP-Grandmaster-Clock (PRTC).
Nanosekundengenaues Messen der Einweg-Verzögerung für 1/10 GE